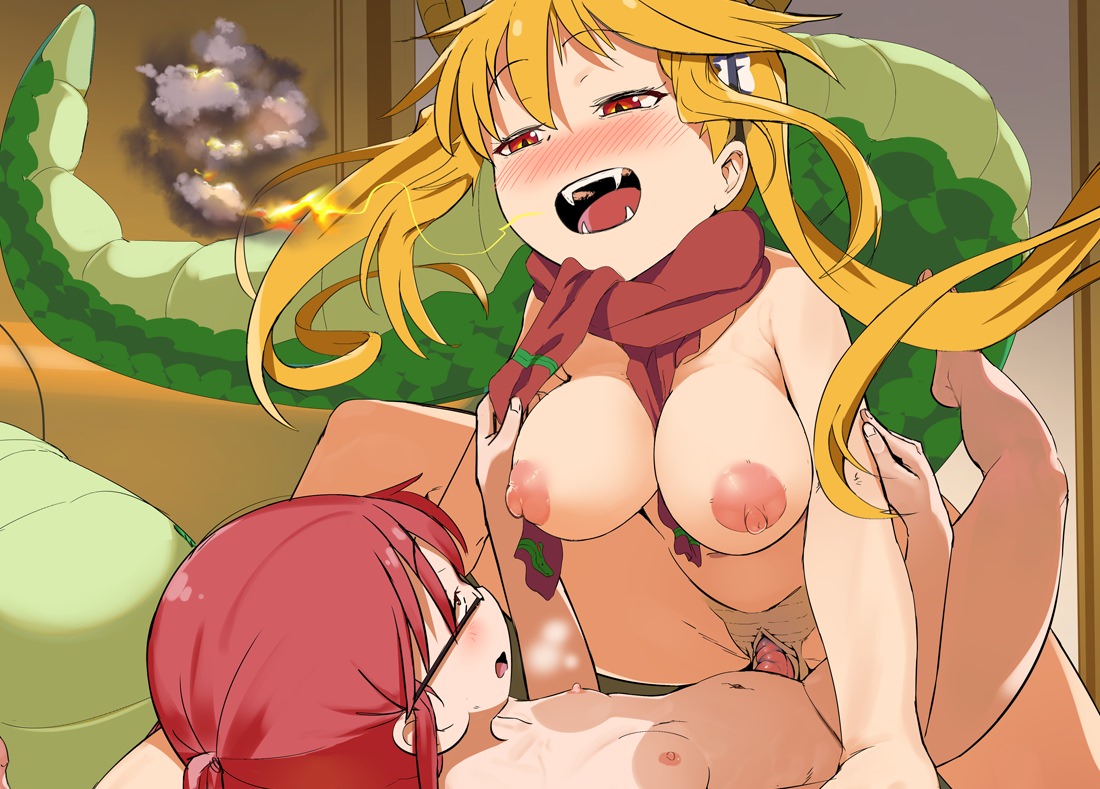 Merry Christmas! I hope you all are in the holiday spirit because we have some special Dragon Maid hentai stuffing your stocking! Tohru from Miss Kobayashi's Dragon Maid won the holiday Patreon poll and R‑E‑L‑O‑A‑D has got the ultimate gift for you! It was a very close battle between Bayonetta, Tohru, and Sonia but the love sick dragon pulled out the win. That's why it's important to vote so you can see your favorite girl lewded in ways you can't even imagine! The previous winner was Ahri from League of Legends and if you've missed that you can check it out here!
Dragon Maid has a ton of sexy characters and most sport huge soft breasts that look amazing to the touch. R‑E‑L‑O‑A‑D is no stranger to the series and has even drawn Elma masturbating after a long day at work. They are also a huge Dragon Maid fan and became inspired by the holiday theme so much that they created an entire page spread to keep you warm by the chimney tonight!
In this image, Tohru finally gets to be alone with Kobayashi on Christmas eve in the most intimate way imaginable. She mounts Kobayashi from on top of her and fills her pussy with her thick dragon cock. Kobayashi pants and moans as Tohru's throbbing curved dick slams into her tight hole. Kobayashi can feel Tohru's balls slapping her wet lips as she penetrates deeper inside. They fuck all night long and eventually cum on and into one another as they share the ultimate gift of love. Hope you're ready to deck the halls! Here's Tohru and Kobayashi in some hot holiday Dragon Maid hentai!

If Tohru and Dragon Maid hentai got you horny for more, you can get the super high resolution version on Patreon! There, you will also gain access to more hot and exclusive images like these. You can also vote on what characters or series you want to see R‑E‑L‑O‑A‑D draw hentai of in the future! In addition to that, Patreon also has exclusive hentai mini doujins / comics, 300+ Super High Resolution hentai images, and even the CLIP/PSD files if you want to see how its all made! So if you want more, click here!
If you like what we do and it helped you get off, send a tip!

Patreon: Exclusive Content Here!


Ko-fi: Support Here!


Cash App: $ReloadHB
Send us your Cummies ♥
CumRocket (CUMMIES): 0xf10684b5a57546B297fFA6EaF7418DBAD5812f8D
Don't know what CumRocket is, but you're interested in Crypto? Click Here!