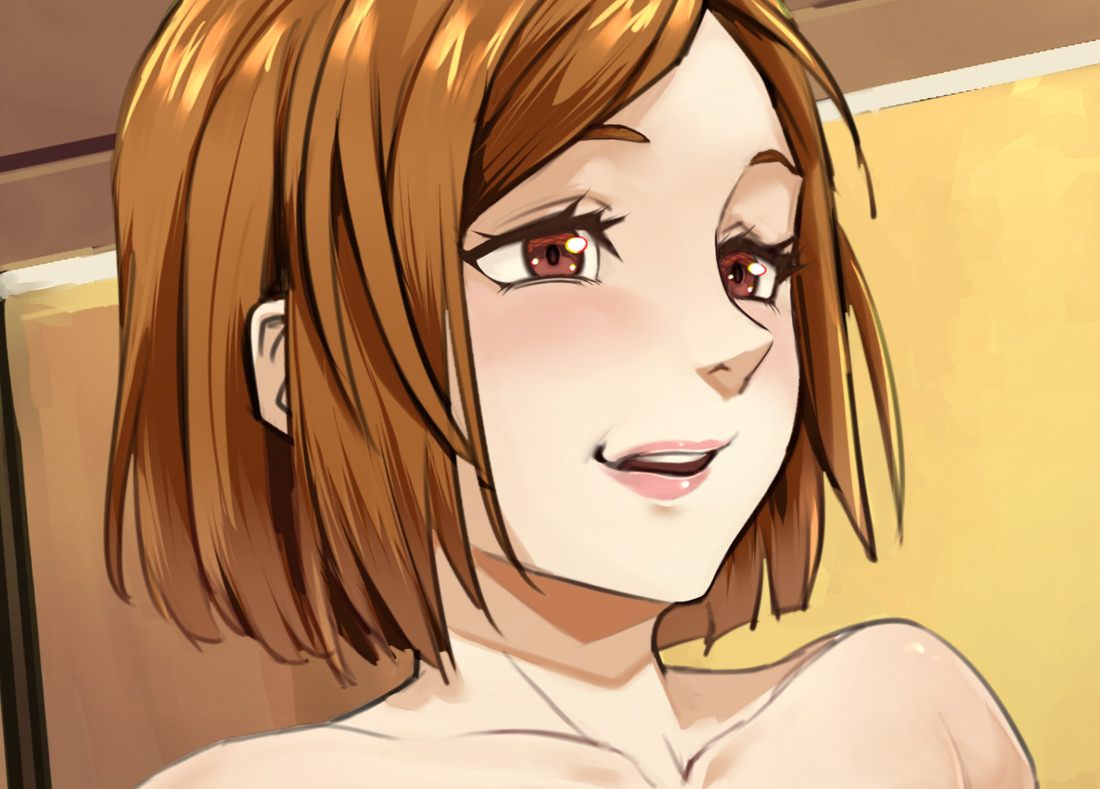 Flash Poll #10 finished up on Patreon and Nobara from Jujutsu Kaisen is the winner of some awesome new hentai! Nami from One Piece was the previous poll winner and new Claire Redfield hentai was also just newly released here. But this time, porn of the Jujutsu Kaisen girls was finally on the menu! The anime is one of our favorites and it has a ton of memorable fights and beautiful strong women.
R‑E‑L‑O‑A‑D hasn't drawn from the series before, but has done girls from other action anime like Jiro and Momo from My Hero Academia. A new poll featuring girls from Interspecies Reviewers has just gone live as well. So If you love futa on female, you won't want to miss this one! Vote here to pick which girl you want to participate in some hot futa action!
In this image, Nobara is out doing the thing she loves the most; shopping. She tries on a lot of outfits because for her looking nice is just as important as being strong. She undresses happily exposing her huge soft tits and smiles in satisfaction from getting to try on her favorite clothes. You get to peer into her private world and see her sexy body in ways you wouldn't get to normally! But, that's enough of that! Here is some hot Jujutsu Kaisen hentai featuring Nobara Kugisaki!


If Nobara and Jujutsu Kaisen hentai has got you horny for more, you can join Patreon! There, you will gain access to hot and exclusive images like this one. You can also vote on what characters or series you want to see R‑E‑L‑O‑A‑D draw hentai of in the future like this new Interspecies Reviewers poll! In addition to that, Patreon also has exclusive hentai mini doujins / comics, 300+ Super High Resolution hentai images, and even the CLIP/PSD files if you want to see how its all made! So if you want more, click here!
If you like what we do and it helped you get off, send a tip!

Patreon: Exclusive Content Here!


Ko-fi: Support Here!


Cash App: $ReloadHB
Send us your Cummies ♥
CumRocket (CUMMIES): 0xf10684b5a57546B297fFA6EaF7418DBAD5812f8D
Don't know what CumRocket is, but you're interested in Crypto? Click Here!